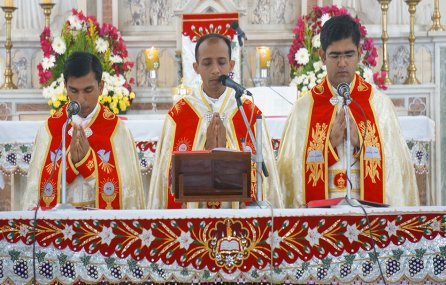 New Priests' Day and the Feast of our Patron St. Joseph | 07-01-2019
The joint celebration of New Priests' day and the feast of St. Joseph, the patron of our seminary was conducted on 07th January 2019, Monday. Although the feast of St. Joseph falls on March 19, the seminary community normally celebrates it in association with the new priests' day celebration because the seminary closes on March 15th for the summer vacation which is before the feast day.
The celebrations began on 06th January, Sunday with the Most Solemn Ramsa led by Rev. Fr. Varghese Moonnuparayil. Rev. Fr. Joseph Ezhuparayil gave the homily for Ramsa. On 07th morning we had a concelebrated Holy Qurbana in which Rev. Fr. Dearin Pallikunnath was the main celebrant. Rev. Fr. Joseph Chakkummoottil gave the homily. A small meeting for congratulating the new priests was conducted in the refectory along with the breakfast. V. Rev. Fr. Rector, Rev. Fr. Jacob Chanikuzhy and Bro. Tinson Narithuruthel gave felicitations to the new priests. Rev. Fr. Sebastian Thenpallil thanked community representing the new priests.