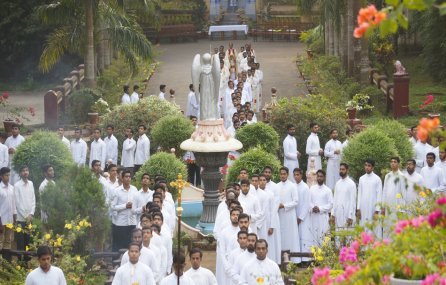 FAREWELL TO THE DEACONS | 13-12-2018
There was a sent off gathering and concelebrated Holy Qurbana in view of the priestly ordination of the deacons of this year on 11th December 2018. The program started with the solemn procession from the grotto of Our Lady in front of our seminary to the chapel followed by the concelebrated Holy Qurbana for which V. Rev. Fr. Mathew Illathuparambil, Rector of the seminary was the main celebrant, and Rev. Fr. Jacob Chanikuzhy, animator of the deacons and Rev. Fr. Thomas Periappuram, Spiritual Director were the concelebrants. All the deacons including both inmates and day-students were present for the function. Rev. Fr. Jacob Chanikuzhygave the homily.
Holy Qurbana was followed by a farewell gathering. V. Rev. Fr. Rector presided over the function and gave the message and felicitations to the deacons.Rev. Bro. JobinKochuputhenpurayil gave felicitations to the deacons representing the whole community. Rev. Dn. DearinPallikunnathu, former General Prefect gave the reply representing the deacons. He thanked all the fathers, staff and the whole community for being good companions in their journey to the priesthood. The gathering concluded with a Christmas celebration led by the first year theologians.