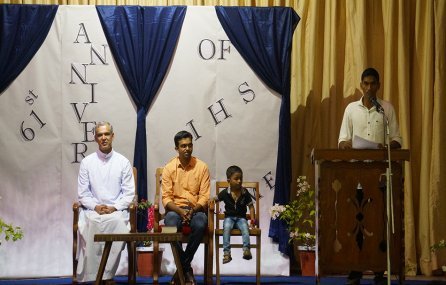 FEAST OF ST. FRANCIS XAVIER AND THE 61ST ANNUVERSARY OF IHS | 03-12-2018
The feast of the second apostle of India, St. Francis Xavier and the 61st anniversary of IHS (Institute for Home Study) have celebrated in the seminary on December 3 Monday. The celebration of the feast has started on Sunday evening with a Most Solemn Ramsa prayer of which the main celebrant was Rev. Fr. Joseph Nellickakandathil. On Monday morning there was a concelebrated Holy Qurbana and V. Rev. Msgr. George Oliapuram, Proto-Syncellus, diocese of Kothamangalam and a former Rector of the seminary, was the main celebrant.
It was followed by the 61st anniversary gathering of IHS, founded by the Servant of God Rev. Fr. Zacharias OCD, for bringing the message of the gospel to our non-Christian brethren. Rev. Fr. Thomas Vattamala presided over the function. Rev. Bro. Sebastian Parayil read the report of the year 2017-2018. The chief guest was Br. George Joseph, a leading preacher, who is converted to the Catholic Church after having a continuous deeper experience of Christ Jesus. He shared his life and experience to the community. The community was overwhelmed seeing his zeal for the word of God.